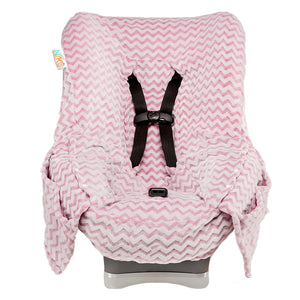 Niko Easy Wash Children's Car Seat Cover & Liner - Minky - Pink Chevron
Sale price Price $44.99 Regular price $55.00
BUY 2 NIKOS AND SAVE 10%
ALWAYS HAVE A SPARE WHILE ONE IS IN THE WASHER
Use code '2Pack10'
 

at checkout.

The Niko Easy Wash Children's Car Seat Cover & Liner - Minky - Pink Chevron is the answer to a constant problem for many parents and grandparents: sticky, messy, filthy car seats!

It's so easy to put on - literally takes seconds - and when it gets dirty, just pull it off and throw it in the wash!  

Made with high-quality, super soft minky fabric, super-strong elastic, and sturdy double stitching, you can re-use it over and over again!

Why you need this: 
So you can easily wash away the yuck that would otherwise be within your child's reach, day in and day out while in the car.

To keep your child from sitting on melted chocolate or weeks old food

To keep your child car seat looking brand new

To keep your sanity

'Cuz, have you seen your child's car seat lately?!...
But there's more...
SHIPPING INFO
The NIKO ships for free in the USA..
Standards shipping: 5-7 Business days.