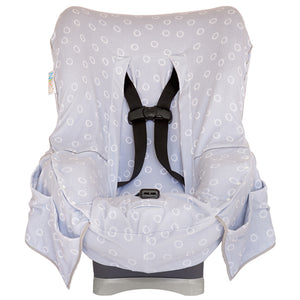 Niko Easy Wash Children's Car Seat Cover & Liner - 100% Cotton Terry - Gray Circle
Sale price Price $45.99 Regular price
The Niko Easy Wash Children's Car Seat Cover & Liner - 100% Cotton Terry Gray Circle is the answer to a constant problem for many parents and grandparents: sticky, messy, filthy car seats!
It's so easy to put on - literally takes seconds - and when it gets dirty, just pull it off and throw it in the wash!  
Made with high-quality, 100% cotton jersey fabric, super-strong elastic, and sturdy double stitching, you can reuse it over and over again!
Why you need this:
So you can easily wash away the yuck that would otherwise be within your child's reach, day in and day out while in the car.

To keep your child from sitting on melted chocolate or weeks-old food

To keep your child's car seat looking brand new

To keep your sanity

'Cuz, have you seen your child's car seat lately?!...
Features:

     *     Waterproof lining on the NIKO seat bottom
     *     Two Pockets on each side for food and toys
     *     Universal Fit for all toddler stage car seats
     *     Cup Holder openings on each side
     *     Machine washable and dryable
     *     Fast N' Easy to take off and put on
But there's more...
     *     100% Cotton options for comfort for your child's sensitive skin and perfect for      warm weather or year round.
     *     Warm and snuggly, ultra-soft, 100% Polyester Minky fabric options for cool weather and kids that enjoy snuggling with their favorite blanky.
     *     Double-stitching throughout for extra durability.
     *     Super-strong elastic holds the NIKO in place.
SHIPPING INFO
The NIKO ships for free in the USA...
Standards shipping: 5-7 Business days.